Enterprise YouTube Enables Video Town Halls Inside Office 365 and Provides Interoperability with Skype for Business
MICROSOFT IGNITE CONFERENCE – ATLANTA, GA – SEPTEMBER 26TH – MediaPlatform, Inc. (www.mediaplatform.com), the leading enterprise YouTube enhancing executive messaging, e-learning and collaboration through live streaming and on-demand video, today announced it is showcasing its integrations for SharePoint, Office 365, Skype for Business and Yammer at the second annual Microsoft Ignite Conference this week.
MediaPlatform has over a decade of experience powering large-scale CEO town halls and training for organizations that include Abbott Laboratories, Ericsson, EY, Phillips 66 and U.S. Department of Homeland Security. With powerful integrations for the Microsoft ecosystem, MediaPlatform helps create a more engaging user experience through an all-in-one video portal for webcasting, content creation and asset management.
"Our approach to enterprise communications is to integrate with best-in-class products to ensure we support the ways organizations and employees want to create and share video content. MediaPlatform helps extend the value of Microsoft products that include Skype for Business and SharePoint through seamless and intuitive integrations," stated Mike Newman, CEO, MediaPlatform.
The award-winning MediaPlatform solution can be deployed from the cloud or on-premises and drives employee engagement through live interactive video presentations that feature multiple presenters, slides, Q&A and chat. As a central and searchable repository for web conference recordings and on-demand content, MediaPlatform offers a secure location for all corporate media assets.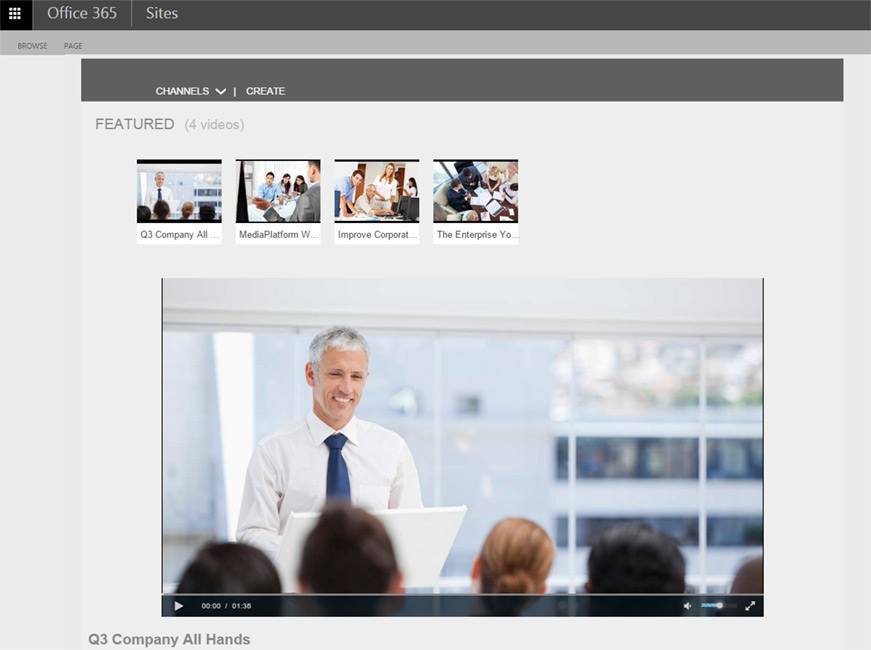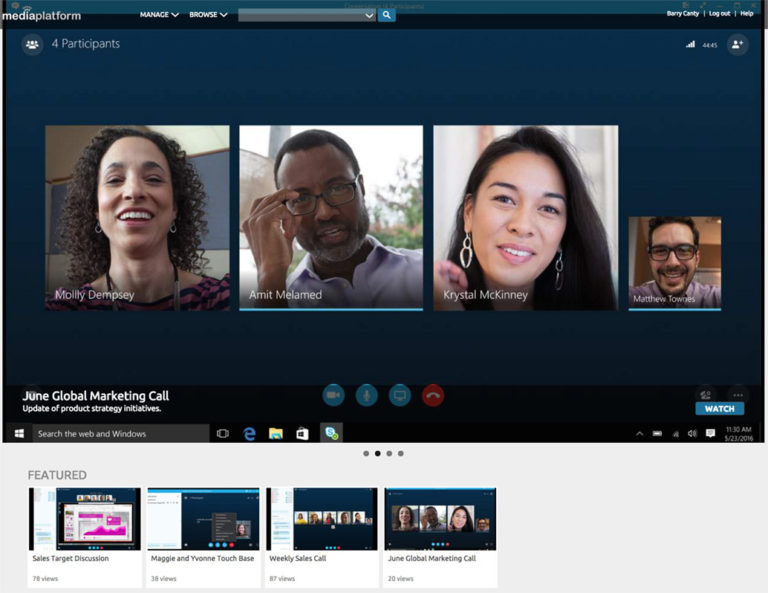 The MediaPlatform product suite includes video solutions for companies across all industries leveraging Microsoft collaboration tools:
Live Streaming
MediaPlatform WebCaster platform helps organizations deliver CEO town halls and all-hands events to audiences of unlimited size inside SharePoint, Office 365 and Yammer. The webcasting solution enables live streaming to desktop, tablet or smartphone with high definition live and on-demand video, PowerPoint, Q&A, chat and surveys. With WebCaster, media producers, executives or employees can capture video from broadcast-quality cameras, videoconferencing systems or webcams for convenient use in live presentations.
Video Content Management
MediaPlatform PrimeTime is an enterprise video platform for managing an organization's Skype for Business recordings and other media assets, functioning like a corporate YouTube. With robust search capabilities and integrations with intranets and Cisco Webex, PrimeTime enables the creation of a secure portal for internal communications and knowledge sharing.
Network Optimization
MediaPlatform SmartPath offers enterprises the ability to live stream to any SharePoint user, regardless of location or content distribution technology. SmartPath enables webcasting of presentations across virtually any type of delivery scenario, by providing a framework to define the particular set of media distribution and failover rules that make sense for an organization.
MediaPlatform SmartEdge is a software-based enterprise Content Delivery Network (eCDN) focused on the acceleration and optimization of HTTPS video delivery within the enterprise. SmartEdge provides network-friendly delivery of secure, high quality, live and on-demand streaming video and rich media webcasts to any SharePoint user on desktop, tablet or mobile device.
Analytics
MediaPlatform Video Business Intelligence is a customizable Quality of Experience (QoE) dashboard offering prescriptive and predictive analytics for live streaming inside the enterprise. VBI organizes all of the data generated during a live stream to help corporate IT and communications professionals deliver high-quality video streaming with every presentation.
Schedule a meeting now with MediaPlatform at Microsoft Ignite Conference or stop by booth #2173 inside the Georgia World Congress Center September 26th – 29th.
About MediaPlatform
MediaPlatform is the leading enterprise YouTube enabling large-scale live streaming and on-demand video for executive messaging, e-learning, and collaboration. MediaPlatform provides a comprehensive set of products and services to help organizations leverage the power of video to improve employee engagement, knowledge sharing and enhance productivity.
MEDIA CONTACT
Barry Canty
MediaPlatform
VP Marketing
(310) 909-8410
bcanty@mediaplatform.com