Enterprise Video Producers
Serving the Needs of Enterprise Video Producers
While there are millions of people using video in business, there's an elite cadre of corporate video producers – with television-grade, globally dispersed production studios and highly specialized teams – who are creating the upper echelons of high-production value content.
Our enterprise video suite is designed for those producers – from our flagship live webcasting platform – MediaPlatform Broadcaster, to our delivery and analytics solutions and our white-glove support and Broadcast Services teams, we exclusively serve the needs of this elite group charged with creating extremely high-profile events – such as CEO Town Halls – where there's little tolerance for error.
In our decades of serving these professionals, they've told us their priorities are: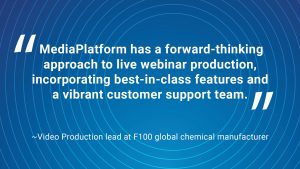 decoration-element
decoration-element
decoration-element
Curious to see how it works and want to try it for yourself?
Get a Demo