By Darian Germain
In a recent survey by the Help Me Stream Research Foundation, enterprise video users said that MediaPlatform was the third most widely used platform for live video, following industry giants Zoom and Microsoft.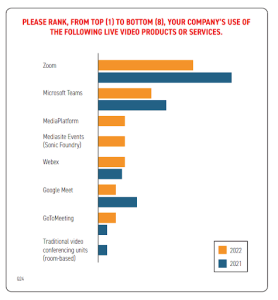 The survey results comprise the bases of a new research report, "Enterprise Video Trends," published by streamingmedia.com.
The report's authors, Michelle Fore-Siglin and Tim Siglin of Help Me Stream Research Foundation noted MediaPlatform's ascent in 2022 over the previous year's survey. "In the second-annual Enterprise Streaming survey, respondents were asked to rank their usage of live video products or services within their organization.
"Between our prior-year survey and this current one, MediaPlatform moved up several slots—from sixth to a three-way tie for third—behind Zoom and Microsoft Teams," the report's authors said.
The report covers an interesting array of enterprise video findings including the rise in hybrid events, growing dissatisfaction with the equality of the online and in-person experiences, and enterprise anticipation that their video needs will grow. The full report can be downloaded here.