You can stream mobile-phone quality video over free social media services. But premium-quality, secure video experiences from your top executives to their global workforces require an enterprise-grade platform and developer-level, hands-on support. With an average tenure of more than a decade serving the world's most prolific corporate users of CEO Town Hall live streaming video, MediaPlatform's deep technical bench is what distinguishes us from companies who market how simple it is to produce a television-quality CEO broadcast. Our team helps our customers with:
Support – when your CEO needs to reach everyone of her employees simultaneously with a time-sensitive message, do you really want to rely on that big company's online ticketing system? Our customers don't. We offer them white glove services and tier-one developers, standing by to quickly remedy any issue that arise, which we are able to do using our own analytics suite.
Architecture – We re-built our Broadcaster live webcasting platform a couple of years ago, leveraging the latest and best in cloud-native architecture, tools and methodology. This same team is dedicated to constant innovation and maintains a bi-weekly platform release schedule to ensuring optimal platform performance and rapid new feature roll outs.
Delivery – We're experts in video encoding and network optimization. We work with all the major peering, multicast and CDN providers and we supplement their capabilities with our own edge technology. Our Smartpath overlay routing intelligence ensures each viewer gets the best possible quality stream across corporate networks that were not designed for the massive video loads we have today.
Webcasting from Collaboration Tools – If your collaboration tools have let you down when trying to reach audiences of more than a few hundred, you're not alone. Collaboration and streaming video tools were designed for different communications applications. We help you tap those tools to bring remote speakers into a premium live event experience, where your dynamic scene, speaker and interactive element changes will keep hybrid audiences engaged and entertained.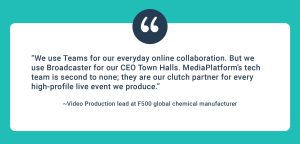 decoration-element
decoration-element
decoration-element
Curious to see how it works and want to try it for yourself?
Get a Demo