By Darian Germain
I was recently asked by a marketing colleague how to go about selecting a software platform for events that will simultaneously support in-person and online audiences. While hybrid events have become commonplace to those of us in the industry, I thought it might be helpful to share some guidelines for marketing teams that are being asked to do something they've never been asked before: put together shows and meetings that provide a great experience for both those attending in person and those participating remotely online.
There are two main categories of software that should be considered, depending on the type of event that's being planned: Virtual Event platforms and Live Webcasting platforms.
Virtual Event Platforms
Virtual Event Platforms are ideal for large, multi-vendor, multi-session events – much like a traditional large trade show. They require a great deal of planning and lead time commensurate with the scope and scale of a major trade show, which often involve many dozens of speakers, hundreds of exhibitors and tens of thousands of attendees.
Customers work with the Virtual Event provider to customize their virtual venue; it may look like a convention center, a plaza or arena, or something more creative –like a tropical island. Here's a sample image of a virtual event designed by one of our partners, 6Connex.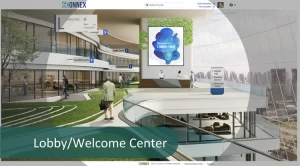 The virtual event usually takes place over several days, and like any trade show, provides a range of speaker tracts and sessions aligned with the professional interests of a wide range of attendees. Live sessions are provided via a range of video streaming technologies – from collaboration tools like Zoom for less formal panel-type discussions all the way to a television-broadcast quality live streaming video for keynote or celebrity speakers.
Attendees can register and pay online and can register for the sessions they'd like to attend. Usually, there's a mobile app that attendees can use to set up calendarsand alerts as well as indicate if they are available to be contacted by other attendees. they provide for a range of speaker tracks and sections, allow for vendors to sponsor 'virtual booths,' they provide e-commerce capabilities that enable attendees to pay for registration, they allow attendees to customize their agendas.
Additionally, the event organizers will have a virtual trade show exhibition hall where relevant vendors can sponsor a virtual booth with product demonstrations, literature, and subject matter experts.
Other capabilities including virtual networking lounges or coffee shops, and often cross-event collaboration opportunities – such as chat or breakout 'rooms' where like-minded attendees can meet via video.
Live Webcasting Platforms
Live webcasting platforms offer a professional live experience that's more like a stage performance or movie theatre experience than a traditional trade show venue. Registered attendees are given access to a virtual lobby, which transitions to the live webcast when presentations begin.
Here's a sample of a live webcasting event using MediaPlatform Broadcaster.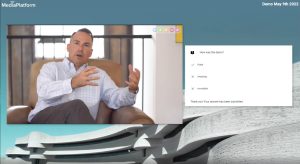 With platforms like MediaPlatform Broadcaster, event admins can design any number of multi-media, multi-element rich media templates that they can switch between during the live webcast like stage scene changes. A webcast may begin with full-screen video (for when the keynote speaker enters the venue), transition to video and slides or other graphics, transition to multi-speaker video and graphics, include pre-recorded videos.
To keep online audiences engaged, event admins can posit, and answer, audience questions in a Q&A component, and can push out surveys and polls to the audience and publish results during the event. Admins and speakers can monitor the reaction of the audience (live or post-event) by monitoring how they vote using built-in sentiment icons. Event admins can also provide third-party solutions, such as Slido or social websites to further engaged online audiences.
Live webcasting platforms require little to no set up time – particularly if offered as a managed service – and are appropriate for virtually any type of meeting, shy of the full virtual trade show described above. For those hosting many live events, live webcasting platforms can be licensed and operated by end users for a much more affordable long-term option.
Professional Audio-Visual Support
In both cases, enlist the help of A/V professionals to ensure that the video and audio experience is excellent for both your in-person and online audiences. For your in-room venues, speakers and audiences need microphones and multi-camera shots that can be projected onto in-room screens (for large rooms) as well as fed appropriately into your live video stream. For example, parking a camera in the back of the room as a live video source will give online audiences a terrible experience as they try to make sense of tiny speakers and slides and try to decipher off-mic questions or comments from the audience.
You'll also want an A/V team with experience streaming live video feeds from on-site locations (there are encoding and networking elements to consider), as well as experience switching between multiple video sources, such as in-room cameras vs. online collaboration tools or video conferencing systems.
To learn more about what tool is best for your event, as well as how to have the perfect A/V set up and team for your event, reach out to our own Broadcast Services team; they do this every day for mission-critical events hosted by Fortune 500 companies. (310) 909-8410