By Ken Swapp, Product Management
The Broadcaster dev team has been hard at work maintaining our cadence of near bi-weekly platform releases to continually refine and enhance Broadcaster so our customers can confidently host their mission-critical company-wide live communications. Here I've summarized a few of the new features we've recently added:
Producer-Centric and Audience Experience
Survey Pie Charts for Producers and Audiences
Producers can now reveal the results of an event survey to the audience and display them as pie charts. As with polls, the producer can view the results prior to deciding whether to reveal the results to the audience.
Once the audience starts answering a survey, the Backstage survey component changes from displaying the questions for the survey to displaying the results. When a producer decides the time is right, the survey results can be displayed in pie chart format to the audience.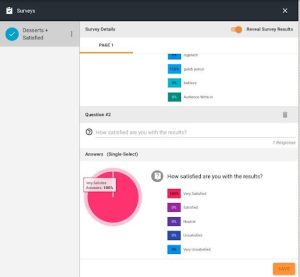 Countdown Timer Color Configuration 
The countdown Timer component can now be configured with a foreground color and used with a transparent background to overlay graphics in the Event Lobby.

Registration State & Country List Shortcut 
We've made it more convenient for your viewers to register with a new state and country shortcut feature. When these fields are included, the registering user can simply type the first letter of a matching choice and the field will jump to the first choice matching that letter.
Analytics
One-Click Event Analytics Download
By popular demand, we've added a single-click download capability that enables producers to share event information more easily with presenters, communications
teams and other event stakeholders. Producers can use the new 'download' button on the Analytics Summary page and a CSV file with event registrants, viewers, questions
etc. will be saved to their computer.
Large-Scale Live Event Support
Email Verification Events and Email Templates
An Email Verification event triggers an email when viewers register that does several things: it verifies the registrants email address, sends them a unique link for accessing the event and can now also be edited to include event information such as date and time.
Broadcaster provides a default verification email that includes registrant's first and last names, the event title, description, and the registrant's unique link to the event which takes viewers into the event Lobby or live event in progress. The HTML email template can be customized to include customer-hosted images and branding.
Q&A Filter
Broadcaster event producers can now filter questions in the Q&A component by Categorized and Uncategorized questions.