Meeting the needs of a now hybrid – remote online and in-office – workforce has become a growing technical and communications challenge. Corporate video producers and enterprise communications professionals are continually looking for ways to create a shared, common experience between employees who are in the office listening to an executive presentation and remote employees watching the webcast version of the event from home.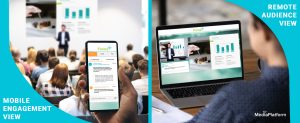 MediaPlatform Broadcaster has excelled at creating visually exciting, dynamic, and interactive experiences for mission critical events – such as CEO Town Halls – for globally disparate online employee audiences. Broadcaster also excels at inviting audience engagement, encouraging audiences to use live Q&A, polls, and surveys to interact with speakers, and to share their reactions to the information being presented by voting with in-video sentiment icons. 
Traditionally, however, employees attending meetings in person had no need to watch the live webcast and, as such, their views were not represented in online interaction data. 
With the latest release of Broadcaster, MediaPlatform is pleased to offer a new, Mobile Engagement view that allows in-person audiences to use their mobile devices to silently participate in the same webcast interaction activities as their online colleagues without drawing down video streams or causing a distraction by accidentally forgetting to mute the audio.  The engagement experience can be easily accessed via email, distributed event link, or in-room QR code.
MediaPlatform customers have enthusiastically welcomed the Mobile Engagement view, which they plan to use to: 
Enable in-person audience members to participate fully in online engagement features such as polling and Q&A alongside remote viewers. This allows onsite attendees to silently access features typically reserved for virtual participants, creating an inclusive engagement experience for all, whether attending in-person or remotely.

Allow small groups of viewers that are watching online together (e.g., gathered in break rooms or conference rooms) to participate individually via engagement features from their own mobile devices.

Prioritize an immersive full-screen video experience by delivering interactive features on a separate device for easy engagement activities.

Increase accessibility by enabling closed captioning for audience members attending an event in-person who desire to read captions in their preferred language. Remote viewers can also benefit from easy access to closed captions.
Contact us here if you would like to learn more about how Broadcaster and the new Mobile Engagement view can help create a common shared experience among your hybrid workforce.
By Darian Germain