MediaPlatform Advanced Live Event Monitoring Capabilities
MediaPlatform offers a new set of advanced live event monitoring capabilities in its Autocaster preproduction and automated webcast replay package. The Autocaster Live Event Monitor dashboard displays critical data for multiple live events – simultaneously – without requiring producers to access the Broadcaster Control Room.
Producers can easily access the Live Event Monitor for a visual indication of how their live events are progressing for a key indicator snapshot of their webcasting projects across the board: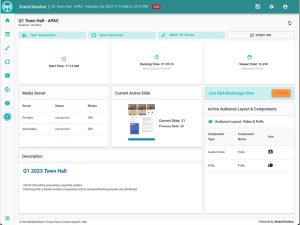 Producers can also use the dashboard to drill down into each event to view real-time details:
Event Name
Media Servers: Connection Status
Live Audience: Current Slide
Live Audience:  Layout
Live Audience: Components List
Producer: Ability to Answer Audience QA Live
Live Event Running Time
Event Description
Event Authentication (SSO, Registration, etc.)
Smartpath Name
Theme Name
If you'd like to learn more about how Autocaster allows enterprise video production teams to schedule and monitor autoplay events that have been preproduced and scheduled to run in advance – without requiring producers or engaging control studio equipment – visit our Autocaster page or contact us for a live demonstration.
By Ken Swapp, Product Management