Your Executives can Use Live, Online Video to Communicate with Remote Employees by Tomorrow
Amazon, Google and many more organizations around the world are responding to the COVID-19 outbreak by restricting employee travel and using technology to conduct business remotely. Online video significantly reduces or eliminates the need for in person face-to-face communication plays a central role in the business continuity and preparedness plans of MediaPlatform customers.
These video-centric organizations also benefit from:
Reduced travel: Video meetings can happen anywhere at any time and without the need for travel.
Extended reach: An enterprise video platform also allows organizations to rapidly extend the reach of important communications. Unlike in person communication, video allows leaders to quickly reach and connect with thousands of employees at once, which can be critical in an emergency.
Connection: Video lets leaders put their face in front of people during a crisis, increasing trust and transparency and helping employees understand how the company, and they, can respond to the situation.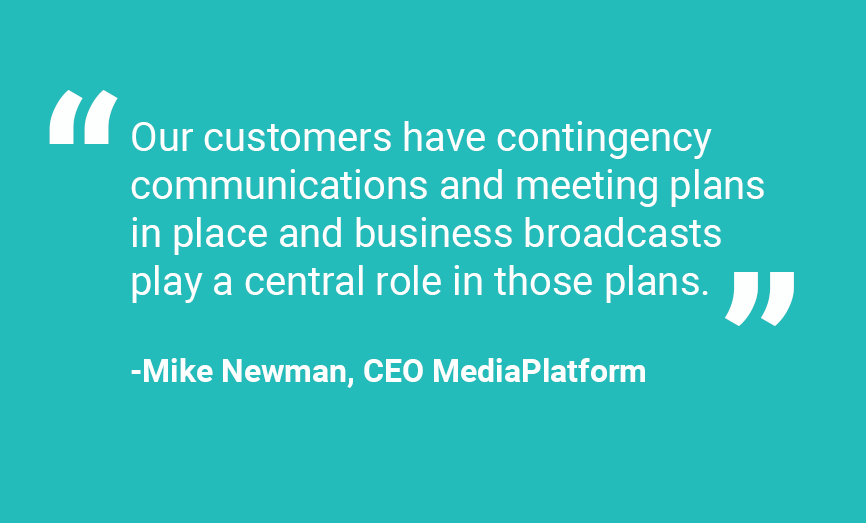 In as little as six hours, MediaPlatform can give your executives live, online video communications that allow them to reach every employee across the globe.
We are offering new Broadcast Services packages to streamline the ability for companies to adopt video as part of their preparedness and continuity plans during the COVID-19 emergency.
decoration-element
decoration-element
decoration-element
Curious to see how it works and want to try it for yourself?
Get a Demo